High Fiddelity: Tell Me!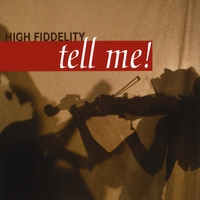 Touching lyrics, lively compositions with humor and depth, an expressive singer, a sensitive violinist and an experienced, joyfully playing rhythm section – that´s the Debut – CD "Tell Me!" by the German jazz-quintet High Fiddelity. Eleven beautiful, varied original compositions by jazz-violinist and composer Natalia Brunke: Swing, ballads and acoustic pop, brought to you through vocals, violin, piano, double bass and drums.
Complex music with a lot of emotion, a band that convinces with well-rounded and spontaneously playing, the conclusive sound and the soloistic quality of its members.
The musicians on Tell Me! are:
Marina Trost – vocals
Natalia Brunke – violin, composition
Christian Doepke – piano
Karsten Gnettner – double bass
Martin Zenker (on 2/3/9/10) – double bass
Bastian Jütte – drums
Frank Zscheile (on 2/3/9/10) – drums
Get the CD at:
LUDWIG BECK – Kaufhaus der Sinne, 
Marienplatz 11, 
80331 München
Bücher am Schloss, 
Effnerstrasse3, 
85764 Oberschleißheim
CD Baby
Downloads:
iTunes
Amazon
CD Baby
Listen to the songs at myspace