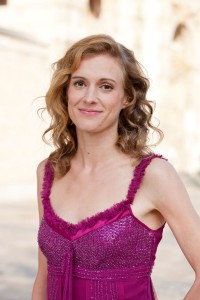 Natalia Brunke was born in Munich, Germany in 1971. Her first violin lessons began at the age of 5. After graduating high school she took acting lessons all the while studying jazz that culminated 2 years later with a diploma at a private jazz school in Munich.
At the age of 24 she started studying violin; classical, jazz and education, first at the Hogeschool voor de Kunsten in Arnhem, Holland, and then from 1996 – 2001 at the Brucknerkonservatorium in Linz, Austria, where she graduated with distinction in 2001. During her studies she wrote for the university Big Band as well as for the International-Jazz-Orchestra, an international working-Big Band, with which she played in Canada for 2 weeks in 2000. Predominately, Natalia wrote music for her own jazz quintet High Fiddelity which she founded in 1999 (vocals, violin, piano, double bass and drums), which toured throughout Austria and Germany from 1999 – 2001.
In 2001, Natalia moved back to Munich, where she worked as a violin teacher at different music schools, played with several bands and worked as a studio musician.
From 2007 to 2009 Natalia studied voice at a private jazz school in Munich, and is now taking lessons in classical voice. From 2012-2016 she was a member of the via-nova-chor.
Since 2008 she has been working as a freelancer: being a musician, composer and violin teacher. In 2011 she is proud to release her debut-album TellMe! with her German jazz-quintet High Fiddelity; containing eleven of her original compositions.
In her free time she loves being outside for long walks, mountain hiking or just hanging around and is a passionate hobby-dancer.